Investment market update - April 2020
We're seeing some encouraging signs but it's still too early to say we won't revisit market lows, writes Chief Investment Officer John Pearce.
There are decades where nothing happens, and there are weeks where decades happen.
— Vladimir Lenin
With the global financial crisis not yet erased from most peoples' memories, it would be a stretch to say that nothing has happened in decades. However, the last few weeks has certainly made the last decade look relatively uneventful.
In the world of economics and finance, we are bombarded with sobering statistics, many of them taking us back to the crash of 1929 to get a peacetime equivalent of what we're now experiencing. The gathering consensus is that the world economy will experience its largest contraction (~2% year-on-year) in peacetime since the Great Depression.
When we published our last investment market update on 23 March, the Australian share market was down about 35% and the epicentre of the COVID-19 crisis was Europe. Since that time, the epicentre has shifted to the US, the world's largest economy—yet the market has bounced about 10% off its lows.
Sharp rallies are often a feature of volatile markets that are still trending down, or at least bouncing off the bottom, as the following chart shows. So we're seeing some encouraging signs, but it's still too early to say we won't revisit the market's lows in the near term.
S&P 500 'bounced' by 9%-19% six times between September and December 2008
As at 26 March 2020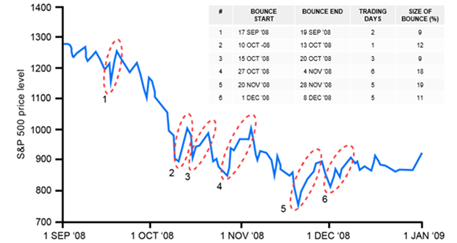 Source: Goldman Sachs Global Investment Research.
Past performance is not an indicator of future performance.
Performance update
The following table shows the performance of all our investment options over various timeframes.1
| OPTION | MARCH RETURN (%) | FINANCIAL YEAR TO 31 MARCH (%) | PREVIOUS 10 FINANCIAL YEARS AVERAGE (%) |
| --- | --- | --- | --- |
| Sustainable High Growth | -12.5 | -5.5 | 10.3 |
| High Growth | -13.0 | -10.3 | 11.0 |
| Growth | -11.5 | -8.2 | 10.2 |
| Sustainable Balanced | -9.2 | -3.8 | 9.1 |
| Balanced | -10.4 | -8.1 | 9.6 |
| Conservative Balanced | -6.1 | -4.4 | 8.1 |
| Conservative | -3.3 | -1.2 | 6.7 |
| Cash | 0.1 | 0.9 | 2.8 |
| Australian Shares | -17.4 | -17.5 | 10.0 |
| International Shares | -9.6 | -3.7 | 12.2 |
| Listed Property | -25.6 | -23.3 | 12.8 |
| Australian Bond | -0.2 | 3.4 | 5.0 |
| Australian Equity Income | -18.8 | -19.7 | 13.82 |
| Global Companies in Asia | -7.2 | -1.1 | 15.62 |
| Global Environmental Opportunities | -9.5 | 1.0 | 15.02 |
| Diversified Credit Income | -5.8 | -5.0 | 1.23 |
1Past performance is not an indicator of future performance. Returns relate to our accumulation (not Pension) investment options and are published after fund taxes and investment expenses, other than account-based fees.
2 These are seven-year numbers only, as 10-year numbers are not available.
3 These are five-year numbers.
There are several points worth noting:
Not surprisingly, any investment options with growth assets have been hit hard over the past month (and generally for the financial year-to-date). However, it's also the case that options with a higher allocation to growth assets have been the biggest beneficiaries of the significant market rally we've seen over the past decade.
Our sustainable options (Sustainable Balanced and Sustainable High Growth) have outperformed their mainstream equivalents, largely because they have:

lower relative exposure to emerging markets, and
very little exposure to the energy sector at a time when energy prices (driven by oil) have crashed.

Single sector options with global shares have significantly outperformed those with Australian shares largely because they have:

benefitted from a falling Australian dollar, and
more exposure to technology and healthcare and (iii) less exposure to banks.

Our low-risk options (Cash and Australian Bond) have done their job of preserving capital.
Our Conservative option, which is popular among members who've had financial advice, has also held up very well. This reflects our prudent approach to liquidity. Our defensive allocation is all cash and bonds, and doesn't include unlisted assets like property and infrastructure.
The Australian Equity Income and Listed Property options have been particularly hard hit over the crisis, as investors significantly downgrade their near-term outlook for dividends.
Outlook for dividends
In a world wracked with uncertainty, it isn't surprising that most companies are refraining from providing any guidance in relation to their near-term profit outlook—and by extension, the outlook for dividends. While investment analysts around the country are busy producing dividend estimates for 2020, any attempts at precision will be relying more on guesswork than hard data.
With this caveat, we've summarised some high-level thoughts in relation to the 2020 dividend outlook for our main Australian investments.*
Companies that have taken a material hit to profit will be decreasing dividends, possibly to zero. This will include our major airport investments (Sydney, Brisbane and Adelaide), shopping centres (Scentre and GPT), and Transurban.
Companies that have generally been able to weather the storm with no material adverse impact to profits will be able to maintain or possibly increase dividends. This will include our investments in ASX, APA, Telstra, and Woolworths.
Our banks have entered this crisis in far better shape than they entered the GFC, with ample capital and liquidity buffers. This is just as well, because there's no doubt that bad debts will rise—the only question being the magnitude. How this translates into dividend policy will be interesting, given that Westpac, ANZ, and NAB will be ruling off their financial half-year as at 31 March, which is before bad debts start to mount.
Our major banks have a large retail shareholder base, and understand the importance of dividends to these shareholders. Indeed, during the GFC the banks still paid dividends, although at reduced levels (ANZ and NAB lower by -25% with two cuts, Westpac by -18% with two cuts, and CBA by -14% with one cut).
Given previous behaviour, our base case assumption is that the banks will again opt to pay a dividend, albeit materially reduced. They'll also take a provision to cover an expected increase in bad debts, and we expect that they'll top up their capital base when conditions are more favourable.
Our big miners, BHP and Rio, have entered this crisis in great shape, with relatively low levels of debt and high profitability. Neither company has to make a decision on dividends until August, by which time the duration of the crisis and impact on demand will (hopefully) be a lot clearer. Our best guess is that both companies will have the balance sheet strength and profits to maintain their dividends.
The above explains why our Australian Equity Income and Listed Property options have been the worst performers since the crisis. A key attribute of the companies these options are invested in is their track record of paying dividends. Given the uncertainty of dividend payments in 2020 for a number of these companies, it's not surprising that their share prices are coming under even more pressure than the broader market. However, basing an investment strategy on the expectation of what the next dividend will be is very short sighted. For many of these companies, 2020 will ultimately represent an aberration to the long-term trend.
Another factor underpinning the underperformance of Australian Equity Income and Listed Property (among the most defensive of our growth-orientated options) has been the unusual nature of this slowdown relative to a typical slowdown or recession. The forced nature of COVID-19 shutdowns has impacted some normally resilient industries (such as toll roads and retail REITs) more heavily than some usually cyclical sectors (such as construction and basic materials) where shutdowns have had less of an impact. While this has blurred the distinction between 'cyclical' and 'defensive' in the short term, we expect the normal distinction will reassert itself over the long term.
Is there light at the end of the tunnel?
With infections mounting daily, the current narrative is overwhelmingly and understandably pessimistic. With almost every country employing some form of social distancing, it is going to be at least a quarter— possibly two—before economies even start on their long path back to recovery.
But while we are realistically conditioning ourselves for a recession, we must strongly guard against talking ourselves into a depression. There are reasons to be optimistic—you sometimes just need to look hard to find them.
The response of governments and central banks around the world has been swift and massive. Fiscal packages of around 10% of GDP are now becoming commonplace—unheard of outside wartime.
Together with the Government, RBA, and regulators, we've seen all the major economic agents—including corporates, unions, banks, and a raft of other institutions—sign up for 'Team Australia'. This rarely happens, and to be fair it's not just being driven by altruism. It's also a rare time when collective interests and self-interest are one and the same. Everyone has a common enemy.
There are myriad developments in the healthcare industry that also give rise to hope. To name a few:
Johnson and Johnson is one of the many companies attempting to develop a vaccine which, if successful, could be available early next year.
Abbott Labs has started producing testing kits allowing for results to be known in a matter of minutes rather than days.
Various companies, such as Roche and Gilead Sciences, are testing whether existing treatments for other viruses can be effective for COVID-19. Companies such as car manufacturers are repurposing production to increase the supply of ventilators. China is now producing over 100 million masks a day.
Finally, with the spread of the virus itself, there are reasons to be hopeful. It's now apparent that a number of Asian countries, with the experience of SARS to draw upon, have dealt with this crisis better than Europe and the US. South Korea is probably the best example of what can be achieved with higher levels of testing, tracking, and effective social distancing policies. It's a country that provides the greatest hope that we can talk about commencing economic recovery in terms of months, not years
We are, however, still being confronted with the fact that the US is about to enter its deadliest period. The US economy and its markets remain the most important in the world. As I've stated in previous updates, a precondition for a sustainable recovery in financial markets is getting beyond the point of daily peak infections in the US. While the US numbers we're seeing look horrific in an absolute sense, the country is not the worst on a per capita basis. Based on credible analysis, the US should pass peak daily deaths before mid to late April, so we could be very close to forming a solid base for asset prices. The economy, on the other hand, is likely to get worse before it gets better.
Log scale of the daily number of new cases by country (from 20) – five day rolling average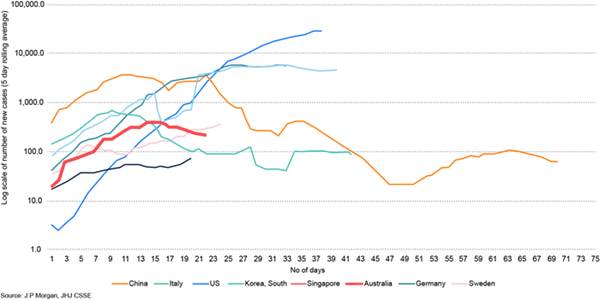 Fortunately for Australia, the shape of the infections and casualty curves looks much closer to the South Korean experience than the tragedies in Italy or Spain. As a nation, we tend to be tough markers on ourselves and our leaders, but the facts suggest some credit is due. On a per capita basis, Australia has conducted as many tests as South Korea and Singapore. Furthermore, in terms of capacity to treat large numbers of serious cases, Australia stands out with high numbers of doctors and beds.#
Speaking of Spain, some commentators have drawn comparisons between COVID-19 and the Spanish Flu when portraying worst-case scenarios. The latter counted for about twenty million deaths, whereas the current COVID-19 toll is about 70,000, rendering such comparisons absurd.
After the Spanish Flu came the roaring '20s, when share markets staged one of the greatest bubbles in history. Alas, it ended in a bust, as most bubbles do.
Coincidentally, we find ourselves a century later in the '20s. Maybe it's best if we just get a decade where nothing happens.
# Source: Credit Suisse Equity Research
* This is not intended to be an endorsement of any of the listed securities named above for inclusion in personal portfolios. The above material reflects UniSuper's view at a particular point in time, having regard to factors specific to UniSuper and its overall investment objectives and strategies. The information provided is of a general nature only and may include general advice. It has been prepared without taking into account your individual objectives, financial situation or needs. UniSuper's investment strategies will not necessarily be appropriate for other investors. Before making any decision in relation to your UniSuper membership, you should consider your circumstances, the relevant product disclosure statement for your membership category, and whether to consult a licensed financial adviser. This information is current as at 7 April 2020.