You have investment choice
Most UniSuper members get to decide how their super is invested.
What you can choose
As an Accumulation 1, Accumulation 2 or Personal Account holder, you can choose your own investments. If you're in the Defined Benefit Division (DBD), you can choose your own investments for the accumulation component of your super.
We have a range of investment types, including sustainable and environmental options, so you can build an investment strategy that's right for you.
What's right for you?
Before choosing your investments, it's worth taking the time to think about a few things first. Consider where you are in your working life, how involved you want to be with your investments and how you feel about risk.
Where are you in your working life?
Time is on your side
When there's more time to invest, you can better tolerate the short-term ups and downs associated with higher risk and moderate risk assets.
This means you're more likely to enjoy their potential to provide higher long-term returns.
Seek stable returns and growth
With less time to invest, diversification becomes more important.
Balancing higher-risk and lower risk investments can help you combine growth opportunities with the comfort of consistent returns.
Protect your savings
If you're closer to retirement or planning to reduce your hours, you're less likely to recover if investments decline in value.
You might prefer to invest more so in lower risk assets such as cash and fixed interest.
Seek a reliable income
If you depend on your super to provide you with a retirement income, you might prefer to invest in lower risk assets such as cash and fixed interest.
Pension drawdown plan
If your UniSuper pension is invested in multiple options, you can choose which ones your pension payments and lump-sum withdrawals come out of. Learn more about your pension drawdown plan.
How hands-on do you want to be?
Leave it to us, manage it yourself, or do a bit of both. It's your choice.
Leave it to us
Choose from our range of Pre-Mixed investment options, including sustainable options. Our fund managers will do the work, actively allocating and managing investments on your behalf.
If you don't make a choice, we'll invest your super in our Balanced investment option.
Manage it yourself
Build your own portfolio with our Sector investment options. Define how you want your money invested by selecting your own mix from our range of Sector options.
You'll need to look after the allocation to each of your chosen options. This is because the allocations will change in line with the performance of each of those options and how you invest future contributions.
A bit of both
Another way to invest is to combine the two approaches.
Invest some super in Pre-Mixed options, which we manage for you.
Invest the rest in Sector investment options (you'll need to look after the allocations to each of your chosen Sector options).
What's your attitude to risk?
When investing, it helps to understand how much risk you're prepared to accept in order to achieve the returns you want. This is known as your risk profile.
Super is usually something you invest in for the long term. This means short-term fluctuations in the value of your investments might not have such a big impact on your balance over time.
But you still need to think about your appetite for risk and the amount of time you expect to invest. Generally, with a longer investment horizon, your final super balance will be less affected by risk and market volatility and you'll have more time to ride out the variability of short-term returns. On the other hand, if you hope to make higher returns, you'll need to accept higher levels of risk.
Risk and return profiles for our investment options
This graph shows the relationship between expected risk and potential returns of our investment options, including both Pre-Mixed and sector options.
It shows how lower risk assets have the potential for lower returns, and higher risk assets have potential for higher returns.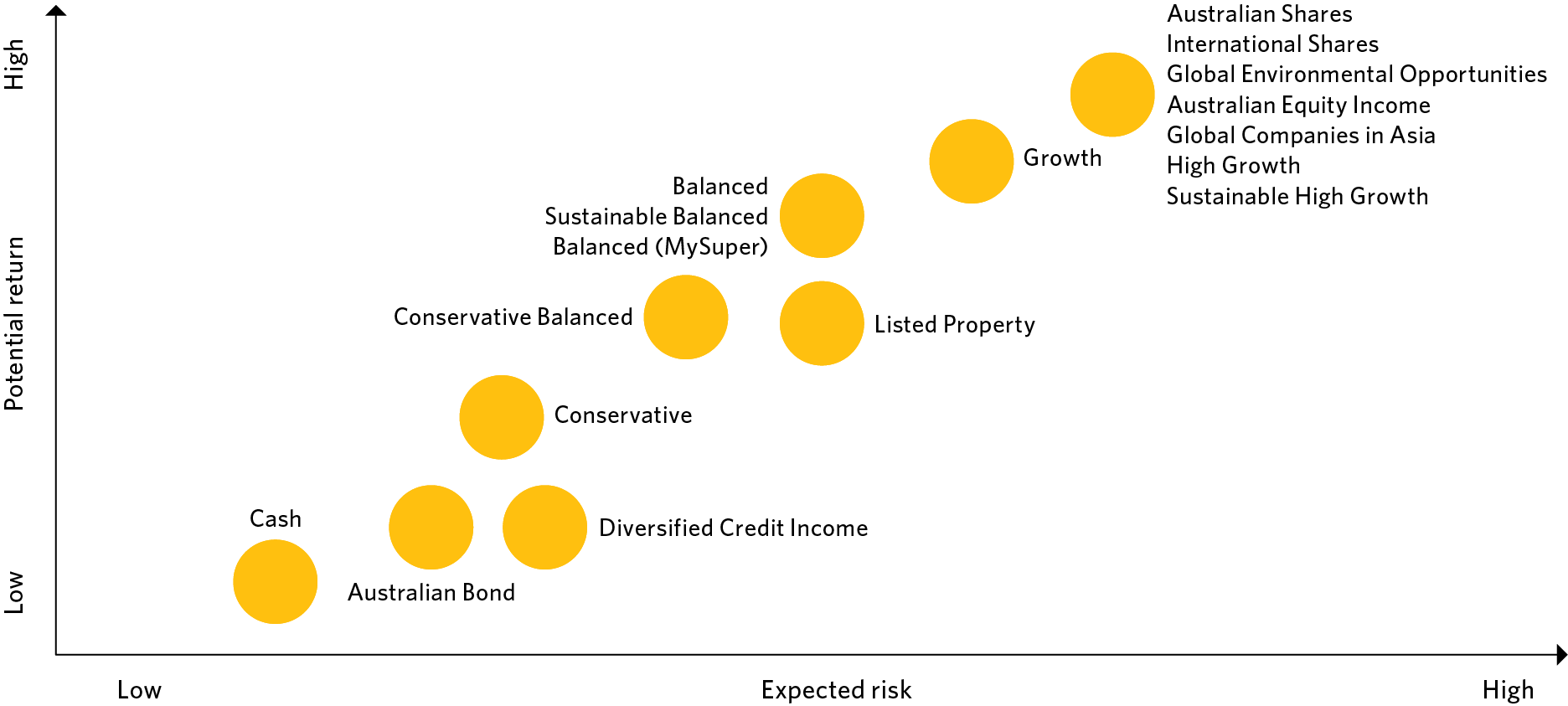 The strategic asset allocations are correct as at 1 November 2021 but may change during your UniSuper membership. In particular, the Trustee may alter the strategic asset allocation or the composition of individual asset classes from time to time to suit prevailing marketing circumstances. Some portion of the allocation to international investments may be hedged against currency movements. Actual allocations will deviate from their targets, but are monitored so they're kept within the Trustee-approved tolerance range.
Learn the basics
If you're new to investing, sometimes it can seem like it has a language all of its own. Let's look at some common investment terminology and concepts.
Explore more
If you'd like to learn more about investment, we're here to help.