Simple, low-cost super
Use this dashboard to see the details of our MySuper product and compare it with other MySuper products.
The information is based on a balance of $50,000 with no activity fees. Different account balances will have different returns, return targets, and fees and costs.
Return targets are not guaranteed. Negative returns may occur more or less often than expected.

The return target for the Balanced (MySuper) option has been calculated in accordance with MySuper requirements. It is the average of the expected returns, based on long-run return assumptions.

The investment strategies for the Balanced (MySuper) option and the Balanced option are the same. However, the return target for the Balanced (MySuper) option is higher than the return target for the Balanced option because the Balanced (MySuper) option objective is less conservative, and we have a lower degree of confidence in achieving it.

This doesn't mean that we are aiming for the Balanced (MySuper) option to have higher returns or that it has a riskier investment strategy.
Return
8.49% p.a.
Return (over 10 years to 30 June 2020)
Return for years ending 30 June*
| Year | Return |
| --- | --- |
| 2020 | 0.68% |
| 2019 | 9.68% |
| 2018 | 10.26% |
| 2017 | 9.40% |
| 2016 | 5.70% |
| 2015 | 10.79% |
| 2014 | 13.65% |
| 2013 | 15.65% |
| 2012 | 1.44% |
| 2011 | 8.64% |
We implemented MySuper on 30 November 2013. Historical returns are based on our Balanced option and are calculated in accordance with MySuper requirements, showing returns minus various fees, costs and taxes. Historically, returns were calculated using a different methodology. Actual returns received by members will depend on the timing of transactions within their account.
Comparison between return target and return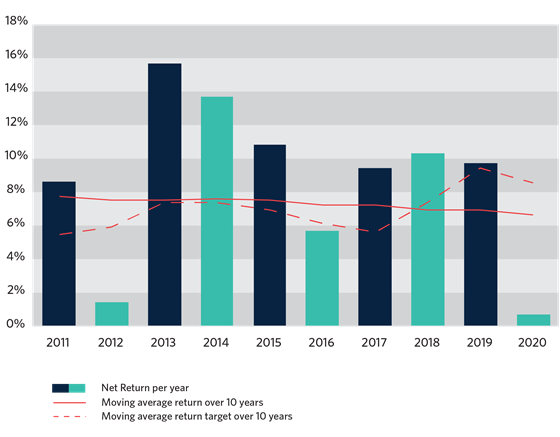 The graph shows our Balanced (MySuper) option returned between 0.68% and 15.7% each year over the ten years ended 30 June 2020, with an average yearly return of 8.49%. A comparison between the moving average of returns and the moving average of return targets shows returns have generally outperformed return targets save for the financial years ended June 2018, 2019 and 2020.

Return targets are a relatively new requirement, meaning we did not calculate a return target prior to November 2013. As at 30 June 2014, the return target was CPI + 4.8% and the graph assumes the same CPI+ 4.8% return target applied in earlier years. Fluctuations in the return target reflect past fluctuations in CPI. After 30 June 2014, return targets reflect changes in CPI and changes in hurdle rate. As at 30 June 2020, the return target over 10 years was CPI + 4.6%.
We're an authorised MySuper fund
We can accept compulsory default super contributions from your employer (also known as 'superannuation guarantee contributions').
MySuper is a government initiative to offer simple, low-cost super. MySuper funds generally give you:
a single, diversified investment strategy so you don't have to worry about choosing how to invest your super
simpler fees, some of which are limited to covering costs
access to basic Death and Total and Permanent Disablement (TPD) insurance cover.
Investments in the Balanced (MySuper) option through Accumulation 1, Accumulation 2 and Personal Accounts form part of MySuper. MySuper is not applicable for DBD or Pension members.
This information is of a general nature only and includes general advice. It has been prepared without taking into account your individual objectives, financial situation or needs. Before making any decision in relation to your UniSuper membership, you should consider your personal circumstances, the relevant product disclosure statement for your membership category and whether to consult a licensed financial adviser. This information is current as at August 2020. Information is subject to change.