The US election and investment markets
With the US election now over for another 4 years, you might be wondering how the investment market will perform off the back of President-elect Joe Biden's historic victory. We interviewed our Chief Investment Officer John Pearce to get a better understanding.

What's the market response been to the election results?
The initial market reaction to the results of the US election was positive. In the first 2 trading days following the election, the S&P 500 was up 4.2%, the Nasdaq Composite was up 6.5% and the Dow Jones Industrial Average was up 3.3%. Sectors which outperformed in this period included technology (across IT, communications and consumer discretionary) and health care.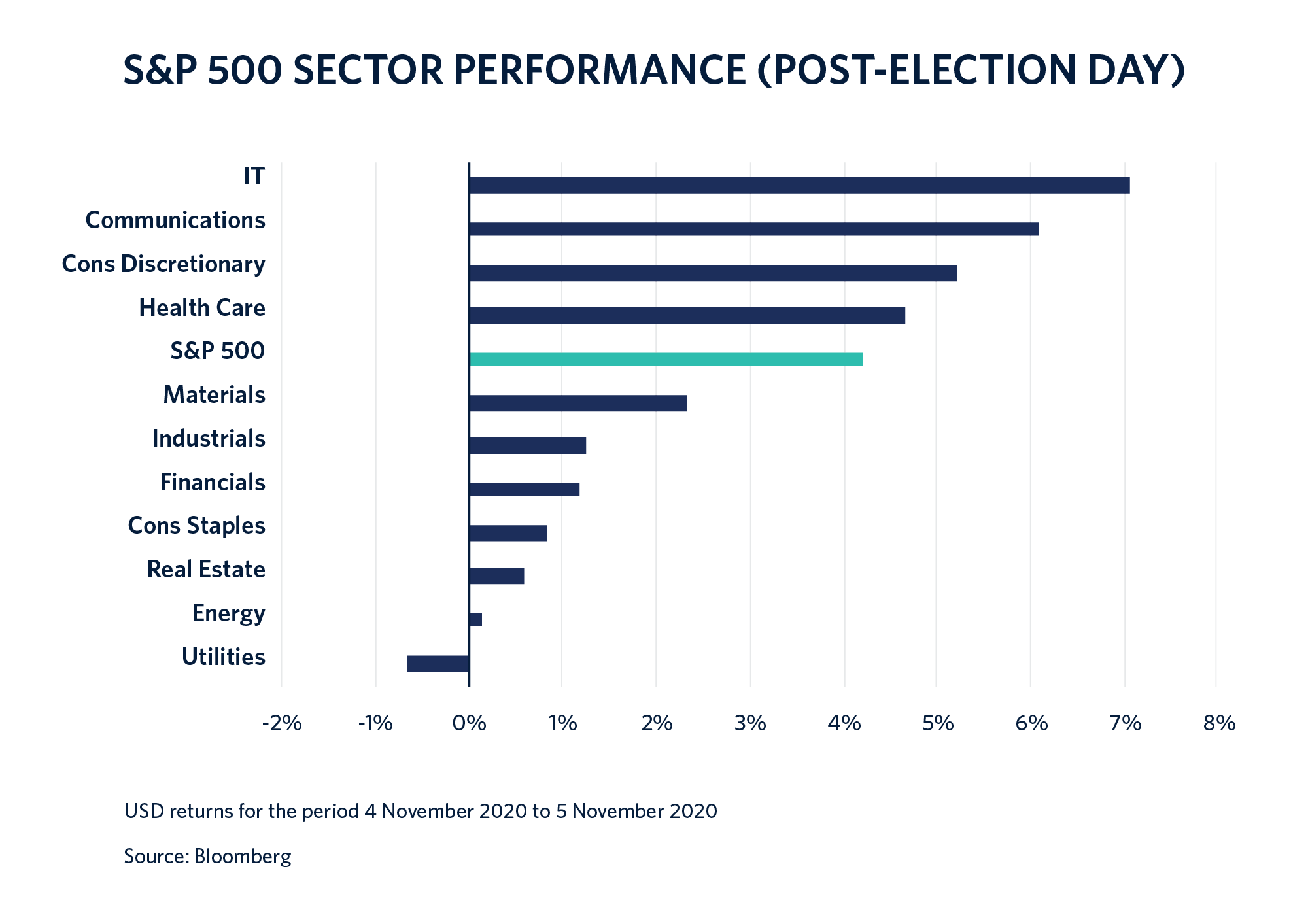 The dispersion in sector performance over these 2 trading days gives us some strong clues as to the major investment consequences resulting from the election.
Firstly, the market formed a view that with a divided government (albeit this outcome is not yet certain), a Biden administration will be less likely to secure congressional support for implementing certain policies. These include planned tax rate increases, health care reforms or potentially new regulations covering the technology landscape.
Following the election, lower longer-term yields reflected market expectations that without large-scale fiscal expenditures to support the economy, the US Federal Reserve will continue to provide accommodative monetary policy. If that assumption holds, it is likely to place downward pressure on Treasury yields and support prices for these types of stocks.
Since the news that a COVID-19 vaccine candidate has demonstrated evidence of efficacy, much of the market's attention has pivoted away from politics and towards economic fundamentals. The initial market impact of the election has now been overwhelmed by optimism regarding a normalisation of economic activity. Subsequently, the sectors of the US economy which were on a relative basis more negatively affected by COVID-19 have begun to outperform. This includes sectors such as energy and financials.
Why did the market rally if it expected a Biden victory? Isn't he going to raise company taxes?
The market reaction has been interesting to observe. This time, the market appeared to react positively based on risks that it potentially avoided from a Biden presidency, rather than any risks it failed to price beforehand.
As background, in the US system of government, the President leads the executive branch of government which is entirely distinct from the legislative branch (Congress). This is quite different from Australia, where the executive branch of government is formed from within the legislature. This means that the President's administration doesn't necessarily receive the support of Congress. If, as expected, Republicans do maintain control over the Senate, they will hold a strong veto power over the more contentious aspects of the Democratic Party's agenda, many of which are not considered market friendly.
Leading up to the election, the market had been anticipating a 'blue wave' outcome. This would have delivered a Biden administration with congressional support to finance President Biden's spending plans with higher corporate and personal tax rates.
A divided congress is unlikely to reverse the tax cuts passed by the Republican controlled congress in 2017. It's estimated that Biden's election promise to lift the corporate tax rate to 28% would have resulted in a c. 10% decrease in earnings per share for the US equity market. This would very likely have acted as a drag on investment performance for equities under a 'blue wave' scenario.
If the Republicans maintain control over the Senate, doesn't that mean we'll be in gridlock, which is bad for markets?
Partisan gridlock can certainly be frustrating at times. We've previously witnessed gridlock in Congress creating volatility through issues such raising the debt ceiling or, more recently, on spending packages to support the economy through the coronavirus-induced recession. So, yes, in the short run, partisan gridlock does place in jeopardy the likelihood of implementing necessary policy.
However, over the course of an electoral cycle, the prospect of partisan gridlock reduces the risk of policy being enacted that is unforeseen, ideologically motivated or lacking mainstream consensus. In this way, a majority party is constrained from pursuing policy goals that would damage market confidence through political risk.
The United States equity market tends to do better under the scenario of a Democratic President and a divided congress. Indeed, the market's evolving reaction to this scenario playing out does seem to be consistent with such an expectation.
The market has embraced the prospect of a divided congress as a 'goldilocks' scenario. In addition to diminished expectations for tax and regulatory changes, the market now firmly expects the US Federal Reserve to maintain an accommodative monetary policy that will compensate for any shortfall in fiscal spending due to gridlock in Washington.
The 'blue wave' scenario would have provided Joe Biden's Democratic colleagues with a strong mandate to seek regulatory reforms concerning several sectors of the economy including health care and technology. These sectors have performed strongly over the long term in the United States and this is partially due to a softer regulatory framework. A continuation of the status quo is therefore likely to be supportive for both the technology sector and the health care sector.
What are the main changes we're likely to see under a Biden presidency?
President-elect Biden is likely to pursue less confrontational relationships with countries with whom the US has a trade deficit. Consequently, we can reasonably expect a de-escalation in the trade war between China and the United States. This may include a reduction in trade barriers and mitigation of costly and disruptive re-organisations for corporate global supply chains and export markets. We can therefore expect momentum to shift away from isolationism and towards globalisation. Such an environment is conducive towards cross-border trade and investment.
Biden also has extensive foreign relations experience and has committed to re-adopting multilateralism as a core tenet of US foreign policy. A good example is Biden's pledge to recommit to the Paris Agreement upon taking office.
As a long-time member of the US Senate with a reasonable record on negotiating bipartisan legislation, Biden is uniquely suited to repairing the fractured relationship between the executive (White House) and legislative (Congress) branches of government. This means the possibility of securing a signature policy achievement such as upgrading the ageing infrastructure stock of the United States cannot be ruled out.
Stylistically, we're also likely to see a return to normalised processes around policy decision making and communication via official channels. Any investment strategies that rely upon trading around the President's Twitter announcements will soon be rendered obsolete.
Has the result impacted UniSuper's investment strategy, and are there any investment options likely to benefit more than others?
The short answer is that election outcomes do not materially alter UniSuper's investment strategy. As an investor with a long-term horizon, we'll be guided by powerful long-term secular trends that will persist beyond the next 4-year presidential term. However, when the results of this election are final, the investment team at UniSuper will have a clearer picture about the investment landscape that will likely emerge from a Biden presidency.
In the immediate aftermath, it's likely to be the case that investment options which are more significantly exposed to global shares as an asset class will be the most sensitive to developments coming out of Washington.
In particular, the International Shares, Global Companies in Asia and Global Environmental Opportunities options are most exposed to both positive and negative policy risks emanating from a Biden presidency. These options are also significantly invested in companies with trade and investment linkages across the Pacific between the US and China.
As always, we encourage all members to think long term when it comes to their investments, and to seek advice from a qualified financial adviser before making changes to their investment strategy.
---
Disclaimer: The information in this article is of a general nature only and may include general advice. It doesn't take into account your individual objectives, financial situation or needs. Our investment strategies won't necessarily be appropriate for other investors. This is not intended to be an endorsement of any of the listed securities named above for inclusion in personal portfolios.
Consider your situation and read the relevant Product Disclosure statement before making personal decisions about your investments or UniSuper membership. Past performance is not an indicator of future performance.